The F-35 Lightning II is a 5th Generation fighter, combining advanced stealth with fighter speed and agility, fully fused sensor information, network-enabled operations and advanced sustainment.
The F-35 is the world's most advanced multi-role fighter – providing unmatched capabilities to military forces around the world, securing high-tech, high-skill jobs for hundreds of thousands of people worldwide, and elevating international security by allowing for more integrated coalition operations.
With a top speed of 1,200 mph, the F-35 is even capable of setting off sonic booms! The supersonic, multi-role F-35 represents a quantum leap in air dominance capability with enhanced lethality and survivability in hostile, anti-access airspace environments.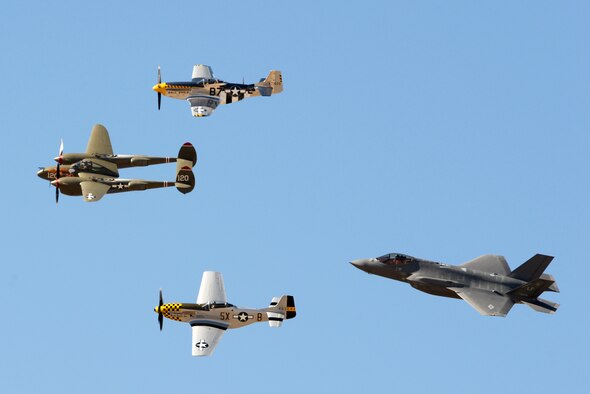 The F-35 has the most powerful and comprehensive integrated sensor package of any fighter aircraft in history, giving pilots 360-degree access to "real-time" battlefield information. The information gathered by F-35 sensors can be securely shared with commanders at sea, in the air or on the ground, providing a comprehensive view of ongoing operations.
The F-35C Lightning II is the U.S. Navy's first low-observable carrier-based aviation platform. The F-35 serves as the carrier strike group's primary offensive fighter for aerial defense and close air support. The U.S. Navy and Marine Corps' carrier variant has larger wings and more robust landing gear than the other variants, making it suitable for catapult launches and fly-in arrestments aboard naval aircraft carriers. Its wingtips fold to allow for more room on the deck on the carriers while deployed. The CV has the greatest internal fuel capacity of the F-35 variants, and, like the F-35B, the C-variant uses probe and drogue refueling.